Had some time today
We actually had a little time this morning to get the database up into working capacity. The few entries that are inside are now updated and working. What a relief! Now it's all about entering all the images and information about each one, and taking pictures of most of them. All in our "spare" time, which is scarce. At least there are a couple dozen entries so far and I wanted to post the first two acquisitions to show young collectors that starting a collection is fun and easy.
The very first thing I bought was at a yard sale in 1993. I bought two sculptures with a friend of mine for $10. They were interesting enough and the artist was unknown. The people having the yard sale knew nothing about the art, only that their parents had the two items in the home for many years and they hated them.
At the time, my friend and I were in a band together and we were close to starving and we had an idea to go yard sailing, pick up some funky items and sell them at the Fairfax High School flea market on Sundays for a huge markup to make extra money – which never panned out. We wound up keeping all the cool stuff for ourselves.
This sculpture grew on me and I don't know what happened to the other. We either sold it or my partner in crime kept it. This one is made to hang on a wall. It is about 12 inches high and 4.5 inches wide and 2 inches thick. It is made with some kind of clay resin, but I really can not identify the medium, but it weighs a ton.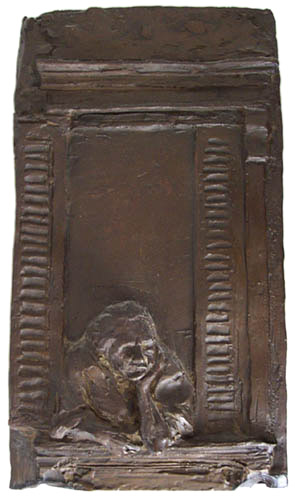 Another first piece I bought off the internet. It was 1996, back when it wasn't all that easy to find art on the internet – can you imagine a time? I found a guy who was making art however. He was in the military as a historic writer for the Air Force in New Mexico. He was making these "reliefs" on canvas and one in particular caught my eye. There was something Aboriginal about it, and I have to admit it also reminded me a bit of Snoopy. It is called "Ram" but I asked him if he wouldn't mind if I called it "Snoopy the Ram" and he thought it was so cute, he agreed to changing it – since I was going to buy it. I think I paid him $350 after all was said and done. It is 21 x 24 x 3 inches and it's made with dry clay, dirt and paint mixture. Any time it's moved, if not careful, a little bit of it flakes off, so I had to encase it in a sort of shadow box-like frame.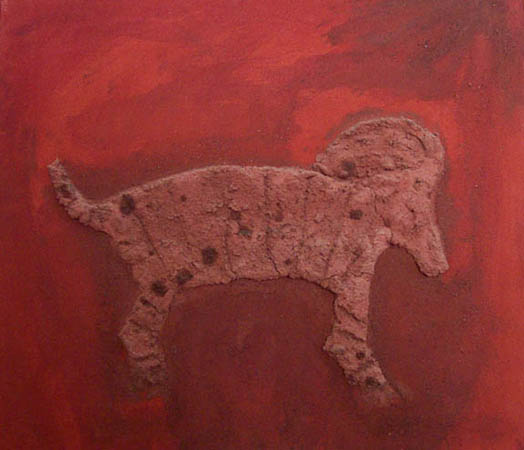 Greg Henneman is now a Master Sgt Fighter Wing Historian for the United States Air Force. He lives in New Mexico with his wife and kids. He still makes art.
We have over 100 pieces of art in our collection. I don't know, maybe more. We won't know until we finish this database one day. Thanks for sharing these little peeks with us along the way! I hope it won't take forever before we post again.
Happy Spring!